We collaborate with organizations in and outside Japan to introduce modern research results. In consideration of global environment, we are promoting new materials and technology development mainly for automotive components.

FEM Analysis
Chemical Analysis Equipment
We implement thoroughgoing quality assurance in every process, from development, design to manufacturing and shipping stage.

3D Measuring Machines
Universal Testing Machines
Acquisition of ISO/TS16949 Certification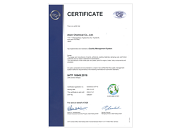 In order to ensure company orientation consistently devoting efforts to produce high-quality products, we obtained ISO/TS16949 certification from the International Automotive Task Force in 2015. We are continuously striving to improve our quality management system through internal audits and regular audits by a third party.
Deming Prize, Japan Quality Control Prize
To provide reliable products, we work based on Total Quality Management(TQM). We won Deming Prize for Small and Medium Enterprises in 1987. In 1992, and Deming Application Prize in 1987. In 1992 we won the Japan Quality Control Prize, recognizing excellent quality-control system.