Enacting voluntary environmental standards, we are working to reduce waste materials and use of raw materials having impact on environment. Including ELV Directive, we promote environment activities, and endeavor for a sustainable society.
Environmental Policy/Revised in March 2008
We will conduct all company activities in harmony with the clean environment, concentrate the wisdom and passion toward preserving abundant nature and its beauty for children, and carry out global environmental conservation activities with all people united.
Aisin Chemical established the Environment Committee in June 2000. Since then we have actively promoted the establishment of the Environmental Management System (EMS) and the implementation of companywide environmental conservation activities. We will make concerted efforts to expand our business activities for sustainable development in close coordination with the Aisin Consolidated Environmental Management.
Details of our activities throughout the year are summarized in our "Environmental Report", and disclosed to the public on our website. We have completed the "Environmental Report 2010", focusing on creation of an easy-to-understand report by, for example, utilizing opinions and ideas of employees devoted to on-site environmental activities. In addition, in view of environmental concerns, we discontinued issuing printed reports from this fiscal year, and adapted the FlashPaper format that can easily be browsed on the website.
The "Green Procurement Guideline" formulated by the Aisin Group is also used by our customers to promote their environmental conservation activities when they procure parts, raw materials, etc.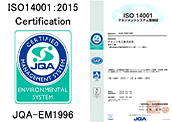 Acquisition of ISO 14001 Certification
We established an environmental-management system based on ISO 14001, and acquired ISO14001 certification in 2001, running continuously for environmental conservation.